Whether you are an avid real estate investor or an average buyer or seller, real estate apps can become quite useful in your endeavors.
Thanks to technology, finding great deals and investments takes less time, and managing your money is more efficient.
Yet like anything in today's digital world, there are tons of apps for real estate to consider.
And there are also many categories where the apps function for multiple purposes.
So if you are looking to grow your real estate portfolio and improve your efficiency, then check these best apps for real estate investors below.
How Real Estate Investing Apps Can Help
The real estate business is a competitive one, with 1 in 7 of us have invested in the industry. In fact, there are currently over 23 million landlords in the US (and growing!).
Not to mention those investors within the industry who aren't tangible property owners.
So how do you come out on top?
Real estate apps exist mainly to improve the efficiency of investors. They allow you to deep dive into your portfolio, ensures your money is making money, and easily manage your rent-related finances.
Benefits of Real Estate Apps
The right real estate app should enable an investor to conveniently find new deals. With a broad insight into the market, these apps offer a huge curated database of the available property giving investors the power and freedom to shop around for the best deals.
Plus, you can set up notifications to instantly alert your device as soon as market changes happen.
And apps for real estate investors are useful for keeping track of all current and previous investments. It can save time and resources to have an overview of each of your investments in one place.
This can be an especially useful habit to set if you're just getting started in real estate investing.
If you've already got a property portfolio or real estate syndication going, real estate apps can be incredibly useful in managing rental income, alongside taxes and other costs. Most of the apps have a simple dashboard that is easy to use, even for the most technologically inexperienced.
Finally, real estate investing apps allow you to stay connected to any of your tenants. Once again, it's a useful feature to have them all in the same place- for example, if problems crop up within the properties, or you need to send rent reminders. Or, a tenant won't surprise you when they give a 30 day notice to the landlord.
Best Real Estate Apps for Investors and Sellers
Whether you are an active real estate investor looking for new rental properties or interested in REITs and crowdfunding, there are apps for you.
These can help you make better investing decisions, catch deals quicker, and save money. Below are some of the best apps for real estate investors that might benefit you.
1. BiggerPockets
The BiggerPockets platform offers more than just an investment-tracking app, with podcasts and blog posts being just a portion of the resources they offer.
There are three levels of membership available to the app depending on your experience; which means this app is accessible to just about everybody.
And there is also a range of features available; including calculators to estimate returns from different rental markets such as Airbnb.
Plus, the BiggerPockets app is highly popular with investors, meaning it has an extensive network of forums and marketplaces for you to discuss deals and ask questions.
2. LoopNet
The LoopNet investors app is focused solely on the commercial property which already hints at its value for entrepreneurial investors.
The software platform is filled with current trends and headlines, including plenty of ideas to modernize or update recently-acquired properties.
It is also well-suited towards investors looking to buy and lease quickly, with an efficient feature that connects interested parties straight to the broker.
3. Fundrise
The Fundrise app offers something slightly different to those mentioned above, with the aim to reduce hidden costs around investing and make the real estate industry more transparent.
The software offers an attractive diversified portfolio rather than outright buying property, which they argue is lower risk for investors.
Fundrise investors may be applicable for quarterly dividends on their investments made directly from rent collected or value appreciation of the properties.
4. DiversyFund
DiversyFund's mission is to close the wealth gap by allowing every investor to behave like the 1% to build generational, long-term wealth.
It's certainly noble, but is it realistic? The software is largely built-out with a learning center of resources and, alongside the investment app itself, makes for a solid incentive for newbie real estate investors.
With their own growth REIT, your money will be pooled with other investors to bring down risk factors.
5. Dotloop
The Dotloop app is largely focused on the management of already-acquired property, with storage capacities for up to 7 years of records.
The software streamlines the process with its built-in signature feature in addition to real-time visibility access into the work of team members.
Therefore, Dotloop is recommended for real estate teams or multiple investors who need to make their process more efficient.
6. Personal Capital
This investment app is centered around every aspect of your finances, including real estate and many other areas.
Personal Capital integrates all of your accounts into one place (their award-winning dashboard), making it simple and easy to check on and track your investments.
Plus, their automated technology compares your allocations with their own recommended targets to determine whether you could be investing more effectively.
7. RedFin
The RedFin platform has been popular for a while now and it's not hard to see why.
The app and brokerage platform offers super low fees to list your property alongside an accurate and extensive valuation tool to indicate whether investors are getting a good deal.
And it will also connect investors to real estate agents who can help in local situations.
8. Landlord Studio
Landlord Studio is well-suited to individuals with multiple property portfolios. It ties together all of the properties you have amassed and provides an easy-to-use management system.
Plus, The display is similar to that of accounting software with chart and report generation.
This platform is ideal if you're worried about tenant rent payments falling behind, as it has a number of automated reminder and alert mechanisms in place.
9. Auction.com
Looking to snap up a bargain? Auction.com specializes in the auction and foreclosed properties complete with a smooth online bidding process.
As well as the usual price or location categories, this platform highlights the best deals and those properties likely to increase in market value after purchase. It's a great choice for those who already know their way around the gavel.
10. Zillow
Zillow is a highly popular app in the real estate world, with a comprehensive and large-scale list of available properties plus a detailed filtering system to match.
Account holders will be able to determine and track the value of their home and get insight into accurate sale prices.
Better still, this platform allows you to link up your search to that of a room mate or partner- so you're both on the same page when it comes to real estate.
11. Homesnap
The Homesnap platform is well-suited to real estate offices and individual investors alike, boasting the quickest real-time updates as soon as new properties hit the market.
In competitive real estate environments, this can be a major advantage. They also provide a connect-to-brokerage feature which allows you to easily get in touch with the agent for that property.
12. Realtor.com
This platform is a solid choice for rentals, with no charge when for daily listings.
Realtor.com's search directory is vast, with the option to also show similar properties in the area; which boosts the visibility of your properties on the app.
Due to its connection to the National Association of Realtors, you'll often find this platform is updated before any of the others.
13. Real Estate Dictionary App
Run by Farlex, the Real Estate Dictionary app offers genuine definitions of real estate terms. It's available for iOS and Android.
The platform integrates the world's top dictionaries to cover just about any real estate term that you might be concerned with.
Although you may have learned plenty in various real estate investing books, sometimes you need a quick reminder.
14. Premier Agent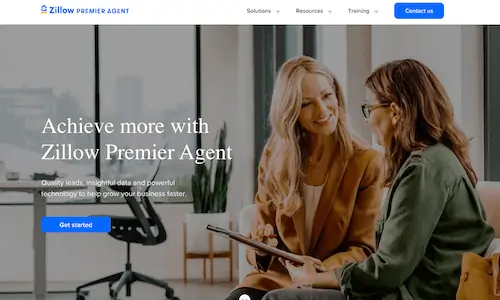 Owned by one of the most popular and well-known real estate companies, Zillow (mentioned earlier), Premier Agent provides quality leads for landlords.
With three different levels of membership, the software also includes data analysis tools in order to track your performance.
In fact, the company has access to over 110 million homes, which means when you sign up, you also have access to the entire database.
15. Mortgage Calculator By Quicken Loans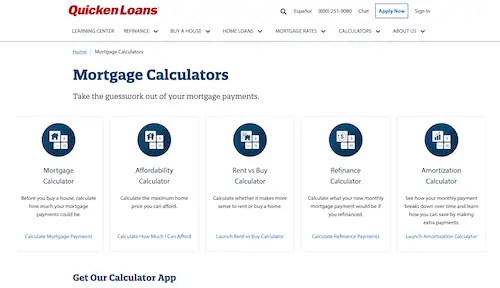 This app, while focused on mortgage calculations, is filled with a number of other payment tools in order for you to calculate your financials for different situations.
The Mortgage Calculator App will also show you:
Affordability (max price of the next home you can afford)
Rent vs Buy (which makes more sense based on your finances)
Refinance (new monthly mortgage payment cost for hypothetical refinancing)
Amortization (how much you could save by making extra payments instead of paying over time)
16. Trulia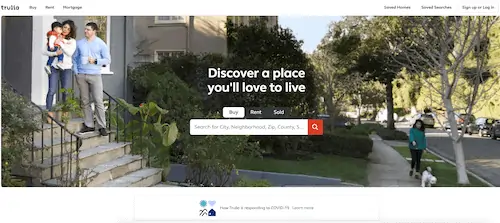 If you are actively looking for a home to buy, Trulia might be the best app for you.
The software provides an incredibly accurate insight into communities and also allows you to set alerts when homes within your search criteria come onto the market.
Now owned by Zillow too, this app is free and perfect for having a nosey on your neighbors before committing to the move.
17. AirBnB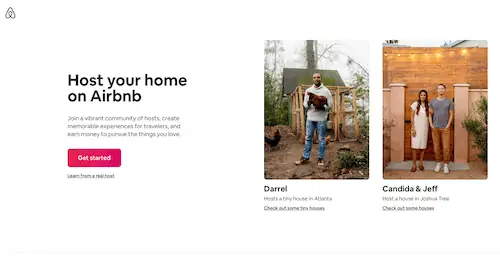 The Airbnb app gives users access to an extensive network of rental properties all over the globe.
A true leader in the industry; the software empowers locals with spare rooms or properties to let out their space in both short and long term investments.
They combine this with an experiences database which makes the platform popular with international holiday makers and domestic travelers alike.
How To Choose The Best Real Estate Investment App
With some many apps for real estate investors available, how are you to know which ones to choose? With any tool, your needs will vary from another.
But here are a few tips to help you choose the right apps and platforms.
Know what your real estate goals are first. Are you going to invest in REITs, rentals, rehab and flip, or a combo of things?
Look at any current apps or platforms you are using. Are they still helpful? Missing features or specific needs? Do you utilize are the right apps currently?
Determine what could make your real estate efforts better and more efficient. Then look at the list above and see which ones might fit your needs.
Some of the apps overlap in features and uses, so test them out! Your personal preferences may differ from another investor. So give the ones you choose a shot and narrow down to your absolute favorites.
That's it! Technology is always changing and I'm sure more real estate apps will come on the market over the next few years. Hopefully these from above will set you on a bright real estate investing future!