It seems that anything you do in life these days, there is a way to make money from it. Mostly thanks to technology and new creative ideas, people have more options to bring in some extra cash.
One way to make some money is by something you probably do everyday — walking!
Yes, you can get paid to walk and there are a few options that do pay you money or give you rewards.
As a side hustle, it's pretty cool to get paid to do something you are doing everyday or just for getting some fresh air, exercising, or completing some tasks.
Don't expect to retire anytime soon from your walking payments or rewards, but any extra bit of money can be a nice boost for your personal finances.
Is There Really Apps That Pay You to Walk?
There are apps that pay you to go out and walk. Some of these apps that you download on your phone will help you with your daily walking and help you earn some extra cash. Where other apps are more specific and besides walking, will require you to do certain tasks.
Although you probably won't make enough to replace a full-time income, a little bit of extra cash here and there can help motivate you to do more walking and maybe treat yourself to something small.
Some apps offer cash, while some offer rewards, discounts and charity donations. Pretty cool though, right? Let's dive into some of the best apps that pay you to walk.
Did you know?
The average person in the United States walks roughly
5,117 steps everyday
. That is about 2.5 miles!
14 Best Apps That Pay You to Walk
1. Sweatcoin
Sweatcoin is an app that you download on your phone that pays you to walk outside by tracking you on a GPS — so treadmills and walking in your house does not count.
For every 1,000 outdoor steps you take you earn 0.95 Sweat Coins. Once you accumulate a certain number of coins, you can redeem them for rewards or even send them to your friend.
The app does not link to any fitness tracker, so you'll need to have your cellphone tracker activated. It also has an algorithm to make sure you're walking rather than driving, so you won't be able to cheat the system by simply jumping in a car.
How much can you make? Once you reach 20,000 Sweatcoins, you get a chance to turn it into $1,000 Paypal cash! However, it does take 18 months to complete and can only be redeemed once.
2. Runtopia
Runtopia is an app that encourages you to set exercise goals for activities such as running, walking and cycling. Every time you meet your goals, you're rewarded with a bonus.
The app is quite interactive, with training programs, warm-ups and cool-downs and even an audio coach.
And the more goals and tasks you complete, the more "Sports Coins" you earn. Once you earn enough Sports Coins, you can redeem them for Paypal cash, memberships, products and discounts.
Runtopia makes exercise a little more exciting!
3. Achievement
The Achievement app allows you to make money from a larger range of exercises, ranging from cycling to swimming and of course, walking.
You earn points for every activity you log into the app, and can also earn points by logging in your diet, your sleep, your weight and more. You can make a maximum of 80 points per day for exercise and 6 points for food logging.
How much can you make? For every 10,000 points you earn, Achievement will pay you $10 – you can also choose to donate those points to charities.
If you make the most of your points every day, it would take you 4 months to make $10, and about $30 in one year.
The good part of this app is that you can connect it with other fitness trackers, or simply use the one on your phone.
Achievement is a great app to leave sitting on your cell as you go about your daily tasks. Every once in a while you can check it and see how many points you're making.
4. Higi
Higi not only tracks your walking but also your overall health. You can input your body fat, blood pressure, weight and much more. Higi also has "health tracking stations" that are placed across the US in different pharmacies.
The more you check into those stations and do exercise, the more rewards you can earn.
Higi connects to any fitness tracker and your phone. Every month and week you're offered specific challenges to complete that allow you to earn points for up to one mile of walking.
You can then redeem those points for specific rewards such as discounts and sports gear.
Although you do want to take note that you won't be able to earn cash and the rewards will require you to purchase items, although you can also donate your points to charity.
5. Stepbet
Stepbet works slightly differently: you get paid to walk by meeting your own step goals and collaborate with others. When you join the app, Stepbet will track your existing activity and create step goals that will encourage you to walk more than you do.
You then join a game and make a bet (usually $40), which involves being active for four days and doing two "power" days per week.
If you don't meet your goals that week, you lose. If you do meet your goals, you split the entire amount contributed with other players!
If you stick to the game and stay active every week, you'll earn a few dollars more than you initially betted!
6. FitPotato
Walking, running, and overall fitness can sometimes be boring to you or maybe you lack motivation.
Another app that may interest you and pays you to walk or exercise is FitPotato. Here's how the app works.
After you download the app, you can challenge friends and other FitPotato users to earn cash for steps. You can join a weekly prize group and complete 3 sessions in 7 days to win.
From your challenges, whomever completes all 3 sessions by the end of week gets a share of the weekly prize. And if you are the only winner that week, you win the entire prize!
Your options include choosing to walk, run, or even dog walking. It's available for both iOS and Android.
7. EarthMiles
EarthMiles is for employers to help engage their employees in wellbeing programs the company might be initiating.
And employees are then financially rewarded for any wellbeing activities that includes mental, social, financial, and physical campaigns.
It works by downloading the app for iOS or Android, joining the company initiative, and taking part in their campaigns. One of which can be various fitness programs like walking, running, biking, etc.
As you earn more points, those can be redeemed for various rewords like discounts, health supplements, classes, and more.
If you are looking to download a free app, this one probably won't be for you unless your company utilizes EarthMiles or you own a business and find it interesting.
8. Gigwalk
The company Gigwalk helps other businesses collect data about products or other services. With Gigwalk, businesses and retailers post tasks to the app and based on locations, matches them to you.
You'll get paid for taking on their tasks and manage the work right through the app.
Essentially, you'll be walking around to various businesses to analyze products or store experience and report it within the app. Most tasks only take a few minutes, but you can select ones that take longer.
Payments are sent through Paypal and can net you anywhere from $3-$100 according to their website.
9. Charity Miles
One app that I thought was pretty cool to include on this list is call Charity Miles.
Instead of getting paid to walk directly, for every mile you walk, bike, run — you help earn money for a charity in their sponsorship list. You can be sponsored by friends or coworkers and vise versa.
The app will pay charities based on a few ways:
Charity Miles' corporate sponsorship fund.
The charities' corporate sponsors.
Pledges and donations from friends and family.
Companies that sponsor their employees through our Employee Empowerment Program.
Pretty cool way to stay active and give back at the same time.
Additional Ways to Make Money Walking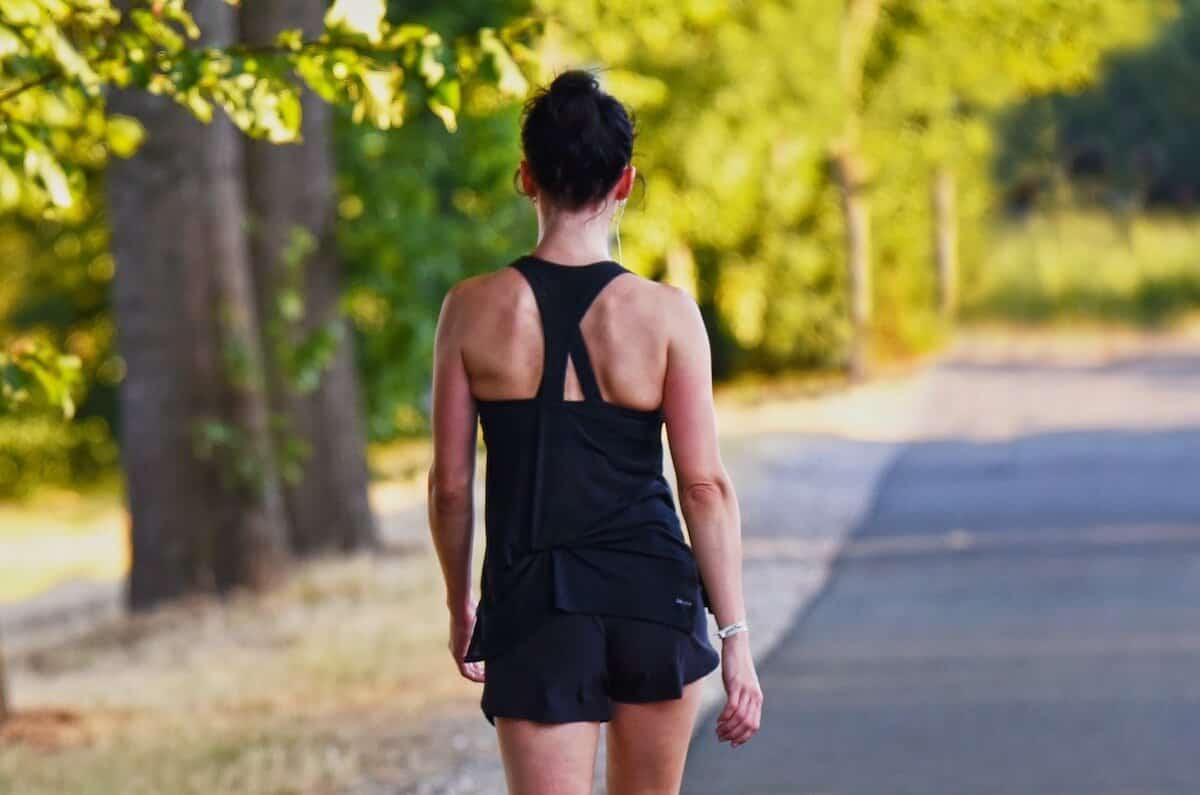 10. HealthyWage
HealthyWage won't pay you directly to walk, but it will encourage you to set and hit goals. If you do meet your goals, you're then entered into a prize draw with a chance of winning $10,000!
You can set the goals yourself, or work with a team to meet goals. If you want to get into the nitty-gritty on how much you could win, the HealthyWage Calculator can give you a good idea of your potential earnings.
11. Rover
If you like walking and taking care of dogs and want to make some extra money on the side, Rover is the app for you!
All you need to do is create an account through the app or online, search for dog owners in your area and reach out to see if anyone is looking for someone to walk their dog.
With Rover, you could earn around $20 for a 30-minute walk with a dog. Not only could it make you more money, but it may make your walk a little more interesting!
12. Instacart
Instacart is a task app that will pay you to deliver groceries to people who can't or don't want to go shopping.
It's very simple to use: you open an account, find someone who needs groceries delivered and then work as a personal shopper. You buy the groceries yourself and then deliver to whoever ordered them.
The pay does vary from the size of your delivery to the distance you need to drive, but all in all you can expect to make something like $15 per hour.
13. Postmates
Postmates is similar to Instacart: you sign up to the app, receive orders and then make food deliveries by bicycle, car or foot.
If you live in a big city, you'll be making money by walking and delivering food to people throughout the city.
If you're flexible, it may be a good way to make money during busy times, such as lunch or dinner. And if you work in a more rural area, you could make money delivery by bicycle, and still get paid to do exercise.
14. Doordash
Doordash is another food delivery app that will pay you to transport food to people who are ordering takeaway. You sign up on the app or website and become a "dasher".
You are then put through an approval process before setting your own schedule for delivering food. And although you will probably be driving a car or riding a bike, there will still be some walking involved too.
Doordash is used in thousands of cities and is a good way to make money walking or cycling by going around and delivering food. You can estimate to make around $6 to $12 per delivery with DoorDash.
Final Thoughts
What do you think about getting paid to walk? Does it interest you as a way to earn some extra money and rewards? Does it motivate you to get out and walk more?
What's cool about these apps is that there are variations for you based on your interests. If you are purely looking to get paid for exercising and walking, you can do that. If you like dogs and walking, there is an app that pays you for that.
And you can also try multiple options and apps to see what you like best and what gives you the most cash or rewards.
Have you tried any of the apps above to get paid to walk? Are there other ways or ideas you have to get you paid just for walking? Let me know in the comments below!