For many investors, a great way to monitor stock market news, companies, and share prices are through a platform like Google Finance.
However, there were many limitations and the Google Finance Portfolio option that used to be the go-to for many was dissolved back in 2017.
The finance platform of Google still exists, but they had completely redesigned it, made it more simple, and removed a lot of reporting features people relied on.
This is a reason many started looking for Google Finance Portfolio alternatives and replacements.
Regardless of the number of shares and stocks you own, check out the nine platforms below. There are better options for you if you are looking for more features and reporting of your investments.
What Is Google Finance?
Google Finance is an app and dashboard that allows users to search by ticker symbol or company name. It offers stocks and bond quotes, current news, and financial data to help you invest your money. If you're someone who likes doing their research, Google Finance is a great place to get all your information in one place in a customizable format.
And although this is a post about the alternatives to Google Finance, it can still be a good choice if you only need the basics and want something simple.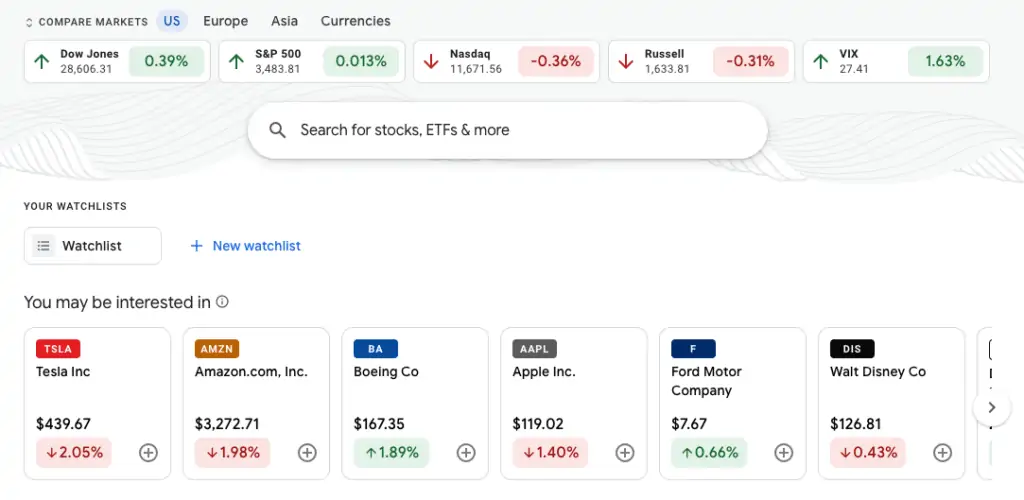 How Does Google Finance Work?
Google Finance was built by the Google tech giant with the goal of offering a platform that allows users to create a personalised portfolio following the stocks and securities that you want to know more about.
It's simple to set up: start by creating a Google account; this will allow you to create a portfolio and take part in the discussion groups offered by Google Finance.
You can then put together a portfolio by heading to the homepage and clicking on "Create a Portfolio". Once you've created your portfolio, you'll be able to add the stocks of your choice along with any mutual funds. You can then view your portfolio in a few different settings, including "overview" and "fundamentals".
The overview mode will let you see the details of every individual stock price along with its percentage change and volume. The fundamentals mode offers a 52 week long chart so you can compare how stocks have performed over time.
The forum is also a great feature, where you can debate buying certain stocks with a group and gather different information.
Why Would You Want to Use Google Finance?
The main reason people like Google Finance is because it's straightforward and simple to use.
The portfolio tool means you can easily track the performance of your entire portfolio with all the quantities you have invested and see the total value over time.
You can even view the total cash in your brokerage account. Google Finance can also be exported into a spreadsheet in various formats, making it easier to combine with a budget or other financial tracking you may be doing.
It also has a handy feature where you can compare your portfolio to indexes such as the S&P and the NASDAQ.
What Google Finance is Lacking
Many people agree that the Google Finance tool used to be a lot better. In 2017, the platform was renovated and many of the key reporting features were removed.
It used to be used by traders and people who wanted more details on their stocks, but now the interface is too simple for more sophisticated investing.
There are a few other details such as the fact that Google Finance isn't great at finding the appropriate stocks from the ticker and the visuals are not very comprehensive.
Tip
: Want to ensure your investments and retirement accounts are on track? Want to uncover hidden fees? Would you like some recommendations based on your investing goals? Then
consider using Blooom
, which is free to connect your 401k or IRAs.
Google Finance Alternatives And Replacements
Whether you miss the old features or looking for more out of your investment research, below are some of the best Google Finance alternatives.
Some of these are free and others have some paid tier subscriptions too. Lastly, these are in no particular order.
1. Morningstar
Morningstar is one of the best-known portfolio trackers for stocks and funds. Its ratings are used by other websites and journalists in widely read newspapers as a source of information on the stock market. The company offers investment research services and holds more than $220 billion in assets.
It's relatively straightforward to use: you see the basic information on the market at the top of the page and the rest contains commentary on any stocks you may be searching for. You can look at your portfolio by asset class, sector, expense ratios, valuation metrics (by geographic location, P/E ratio (price to earning ratio), P/B ratio (price to book ratio), and more.
You can easily search any stock on the website and Morningstar will come up with all the information and articles on the company. You can look at charts by a single day and quickly identify the day's high price and lows to help you make your investment decisions. And you can add several stocks to your account and track the commentary and performance over time.
Pros:
Morningstar has some of the best commentary and up to date stock information
You have control over the amount of information you want to access
Limited ads, because of the premium subscription model which makes navigation easy and less distractions
Learn more and sign-up here for a 14 day free trial
Cons:
Most of the best information is only available to those members who pay
You're asked to subscribe often while you might be using some free tools, which can be frustrating if you aren't ready to join the paid program
2. MSN Money
MSN Money is one of the best Google Finance Portfolio alternatives. The platform offers a lot of information on stocks, including price, dividend yield, PE, and more.
Pros:
You get a good combination of general stock market news and information on specific stocks
You can track the stocks in real time as well as various markets
You also get content on a wider range of topics like real estate, careers, etc.
Cons:
Content is aggregated rather than original
You may find a lot of overlap of content in the different categories
3. Personal Capital
Personal Capital is a popular personal finance tool that helps you plan and manage your own money. With the Free Tools version, you can sync all your banking information, and the app will analyze your finances and offer advice. It also has a retirement planner and a portfolio analysis with an overview of your investments.
Pros:
It doesn't just offer information, it also analyzes your own money, net worth, and investments
The free version offers some pretty good tools for budgeting, spending, retirement, calculators, etc.
You can get some recommendations for your retirement and portfolio allocation to make better financial choices
Cons:
You won't get any news or commentary like others on this list, although you may find some good stuff on their blog
You'll need to pay a premium subscription to access wealth management services
4. Yahoo Finance
Yahoo Finance is another platform that's been around for quite some time and a good competitor to Google Finance.
Yahoo offers a snapshot of the financial market, as well as regular press releases coming from company updates. They offer both a watchlist and portfolio tracking to easily monitor your stock portfolio. You'll find free information on historical data, value metrics, trading ranges, and financials. Both current valuations and historical valuation data are available.
Pros:
The app is quite well done so it's easy to use on mobile
It's free, and you don't even need an account for the mobile version
The interface is clear and intuitive with lots of investing news
Cons:
A lot of the content is sponsored which makes it hard to find real news
There are a lot of ads and pop-ups, making it slightly distracting
The charts and data on stocks can limiting for your needs
Yahoo Finance does offer a paid subscription. Yahoo Finance plus provides additional data for actionable insight and more advanced tools to include interactive charts, brokerage portfolio tracking, trade ideas, enhanced alerts, and more company specific data. As a bonus, there's fewer ads.
5. Investing.com
Investing.com is almost as old as Google Finance, and has both a web and app version. It offers information and news on stocks, bonds, options, currencies, and commodities. The web app focuses mostly on financial data, with a separate page for the financial news. You can also set up a portfolio with the companies you are tracking.
Pros:
If you're not interested in the news, it's a great interface with all the important investing and financial data
Tons of detail, tools, and charts to help you make strong investing decisions
Actually offers limited ads compared to others and if you join the paid tier, ads are completely removed
Cons:
Although the content is not as heavy, what is there ends up being quite a bit of sponsored content
Financial news is not as thorough as it could be
6. Wallmine
Wallmine is another portfolio software that allows you to track the performance of your stocks across several brokerage accounts. It offers detailed analysis on your portfolio and has some good features that allow you to sort your investments according to your own preferences.
Pros:
The portfolio tracking tool is free
It can be synced with several stock brokers
You can sort out stock results and even export certain financial statements.
Cons:
If you want to use the best features you need to pay (and it's not cheap)
The free version has a limit of 20 stocks.
7. MarketBeat
MarketBeat offers real-time data as well as stock news, tips, dividend information and even social media activity. They offer a Trading View that comes with recommendations and makes it easy to track your investments.
Pros
The Trading View screen is powerful and offers a lot of information
Good analyst ratings and insights to make more informed investing decisions
Cons
It doesn't have the most intuitive interface
You only get up to five stocks to manage before you need to pay
8. Finviz
Finviz is an app that allows you to view all your investment charts and stock prices through several dimensions, including by market, by sector or by ticker. You can use it to monitor your portfolio and track the financial calendar.
Pros
The free version offers a lot of useful features, tools, filters, and stock screeners
The design is simple and user-friendly, great for beginners
Cons
There are a lot of ads, especially video ads
Some of the best tools require a premium subscription
9. Barchart
Barchart was built mostly for traders and those looking for more technical information. It offers a great price alert feature and the charting is more sophisticated. It offers charting, analytics and in-depth research.
Pros
It has all the news, charts and data a trader would need
Offers some great data driven information to help with management and performance
Cons
Quite a few banners and ads if you're on the free version
Can be more complex for beginners
What Is The Best Google Finance Alternative?
Thanks to technology and the growing financial tech that exists, you have a plethora of choices when looking for a Google Finance Portfolio alternative. Some of these tools will require a more active hands on approach to managing your portfolio and investments. While others set up alerts and allow you to get email updates about current news based on the frequency you choose.
These tools are available for different fees and many of them have a basic free option depending on your budget. You may even find a few new mobile apps to help manage your portfolio, trades, and other investments. And like most options, what you choose is a personal choice.
Review the financial websites that we've discussed. Analyze your needs, what type of investor you are, if you have a budget, and what makes your life easier with your finances. If anything, try a few of these above and narrow it down. Just keep in mind that these options may not offer real-time stock quotes. Many are great when doing fundamental analysis. But check with the tool you're using or your brokerage account, if you are looking to invest in real time with technical indicators.If you need more help or are just getting started, here are some investing tips for beginners and beyond.