Thanks to technology, we now have access to information, content, games, and ways to make money instantly — and right from our own phones!
So if you are looking to make more money or earn some extra cash, you have a plethora of options.
One way to make some money and earn rewards is by playing games on your phone through an app called Mistplay.
Now you might be wondering what the catch is with Mistplay, if it's legit, and if you really can make money just from using the app.
In this Mistplay review, we'll cover everything about the app, company, and how it works so you can make a decision about downloading and playing the game.
What Is Mistplay?
Everyone is looking for ways to make extra money on the side. Well Mistplay might fit that call for some. Similar to survey sites, Mistplay is an app that allows you to play games on your phone, while building points in a loyalty program that rewards users for engaging in the app. It's only available in the Google Play Store, which means only Android users can use it.
The game offers users awesome rewards through a points system with app credits: the more points you earn, the more "units" you receive which can then be turned into gift cards, Steam credit, and other prizes. Although the app doesn't pay cash, it's an indirect way to make money online.
You'll be playing a wide variety of mobile games such as Solitaire, virtual casino, war games, strategy games and more. The more time you spend playing games and gaining experience, the more extra money in rewards you'll get!
How Does Mistplay Work?
First, you'll need to download the Mistplay app from the Google Play store and then install it onto your phone. Once you open the app you'll be able to create an account for free.
You'll also need to change a few settings: disable power-saving on your phone and allow the app to keep running while other apps are on. This is because the app will need to track your time spent on each game in order to reward you accordingly.
Once you've created your account, Mistplay will pick a game for you to download and will install it within the app. This is so it can measure how long you spend playing games and how many points to reward you with.
Games include Bingo, strategy, war games, board games and more – you certainly won't get bored! New games are constantly being added and you can pick and choose the types of games you want to play.
Depending on the game, you'll need to meet certain requirements in order to receive the Mistplay in-game currency called "units."
Every time you play a game you'll see how many units you've earned once you exit. This also may depend on your location: you get different games depending on where you are situated. If they find you using a VPN, you will get banned immediately.
Why are you getting paid to play games?
The main reason is because game developers want to develop games and test them on an audience. There are thousands of games out there, and it's difficult to get noticed.
Developers use a platform like Mistplay to reach a larger audience and gather feedback: how long you spent playing the game, how interactive were you, whether you would recommend it to others, etc.
Game developers also pay Mistplay to promote and improve the game, and as a user, you gain a portion of this money with rewards.
Are you eligible to use Mistplay?
Signing-up is simple. You need to be over 13 years old and have an Android phone in order to play Mistplay. You'll be able to play for free and won't have to pay anything to receive your rewards or create an account.
You'll also need to live in a country that Mistplay operates in, such as the US, Canada and most European countries.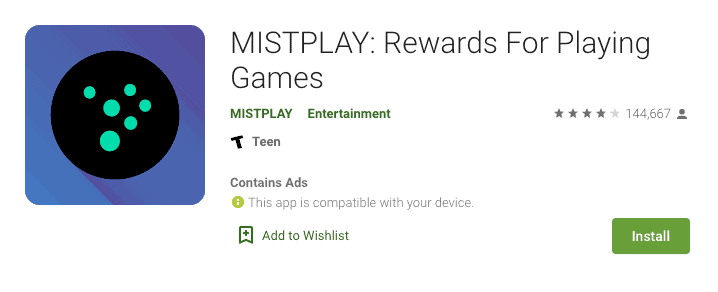 How to Earn Rewards at Mistplay
You'll be able to earn Mistplay rewards as soon as you start playing. You simply open the app, pick the game you want to play, and get started. If you're trying to earn as much money as possible, pick the games that offer the highest rewards.
You can see this by browsing the games with the highest number of points.
The longer you play, the more player and game points you'll earn, which are then translated into units. Then, the units you acquire can be converted into various gift cards and more.
How does the Mistplay points system work?
There are three main point systems Mistplay uses: Units, Player Experience Points (PXP) and Game Experience Points (GXP).
The GXPs are how much time you've been playing: the more GXPs you earn, the more units you can earn too.
The PXPs are about the experience you gain in the game, which is essentially the level you're reaching and how well you're doing. The better you get at a game, the higher the levels you'll reach and you'll be able to earn "bonus" units and player features.
In addition to GXPs and PXPs you will also earn daily bonuses.
For example, you will earn a daily bonus for playing at least 5 minutes for more than 7 days in a row. You can also participate in contests and earn a little extra. If you get new followers, play for more than a certain time or install a specific game, you can enter a contest and earn up to 10,000 units.
GXPs, PXPs, contests and bonuses are what allow you to receive units. The units are the currency which you can then use for gift cards, Visa prepaid cards, and other rewards.
What Can I Exchange My Mistplay Units For?
The units are Mistplay's in-game currency, which you can then use to obtain rewards. You'll receive units for the time, effort and experience you gain playing Mistplay games.
Different games will offer a different number of units, which is why it may be worth picking games that offer higher rewards.
Once you've reached a certain number of units earned, you'll be able to exchange those units for certain prizes.
These prizes are usually gift cards from Amazon, PlayStation, Facebook, Google Play and XBox. Sadly, you won't be able to exchange your Mistplay units for direct cash: it will always need to be in the form of gift cards or prepaid cards that range from $0.50 to $50.
Once you are starting to redeem your points, ,make sure to select the right currency and email address when placing your order. After you commit to a specific gift card, you won't be able to return it — so make sure you pick something you're happy with.
When do I get my gift card at Mistplay?
Once you have reached the number of Mistplay units necessary for a specific gift card, then you can redeem it for Visa, Amazon, Xbox, Nintendo and eBay gift cards. You just need to click on "buy" and you'll receive your gift card in your email.
You can expect to receive your gift card within 48 hours of placing the order. Your gift card is sent to you through your email, so that's where you should look for it once 48 hours have passed.
Pros and Cons of Mistplay
As you know, there are always pros and cons of any personal finance tools, apps, games, etc. Below are a few pros and cons of using Mistplay.
Pros
Let's start with the pros of Mistplay. It's pretty cool that you can earn rewards and be incentivized
Receiving Gift Cards
You have a nice choice of gift cards and prepaid cards that you can redeem from playing various games. The value of these cards will typically range from $0.50 up to $50.00. Most of us enjoy playing games or do from time to time, so why not take advantage of that and earn rewards and get paid something?
No Credit Card Info Required
Many times apps or games that are labeled as "free" require you to still enter credit card information. This is usually to get you to buy upgrades within the game. But with Mistplay, you will not need to enter any financial information to use the app and redeem rewards.
No Ads Within The App And Games
Another challenge with other games and apps that are free, is they can be filled with ads and pop-ups. With Mistplay, you'll be using the app and games completely ad free.
Cons
Remember that apps will always have cons and so will games that you play. While you wont be earning full-time income from Mistplay or really enough to be a side hustle, that shouldn't deter you from trying it.
But it's still important to no some of the downsides of the app.
You Can't Earn Direct Cash
Mistplay has become fairly popular and maybe people might think they can use the app to make money directly.
Unfortunately that is untrue and you can only redeem rewards that can be up to $50. However, there are plenty of options to use those rewards for, which is still nice.
Only For Android Phone Users
Sorry all you iOS phones, the Mistplay app is currently only available for Android phones. There apparently is an app version in the works for iPhone users, so stay tuned!
Earning Points Gets Challenging
As you use the app more, your unit earning rates will start to slow down as you progress into the games. This actually makes it more challenging to earn more rewards and can limit your earning potential.
Is Mistplay A Scam?
Many people think Mistplay is too good to be true, and are quick to think that Mistplay is a scam. But the good news is that it isn't a scam at all. You won't find any sales pitches and the app won't force you to purchase anything.
It's just some free games in exchange for some fun gift cards. You'll be able to try a lot of new games and you'll never be forced to pay money in order to reach another level.
How Much Money Can You Earn With Mistplay?
As mentioned above, you can't earn much money with Mistplay. The maximum number of rewards you can make is about $50 per month, and that will require a lot of gaming and dedication to the app.
For example, it takes 1,500 units to generate a $5 gift card.
You won't earn money directly in your bank-account, but if you use Amazon or eBay regularly, the gift cards can help you with specific purchases. It'll take time to reach something like $50, but if you are an avid gamer it could be a lot of fun.
How Does Mistplay Make Money?
How can an app that pays users make money? As we saw above, Mistplay is essentially connecting game developers with gamers. The developers pay Mistplay so users can test the game and offer feedback.
Mistplay makes money by keeping most of the income paid by developers and just paying out a percentage to its users.
Is Mistplay Worth Joining?
Although Mistplay may sound like a lot of fun, you won't make a lot of money. The amount of money you'll be earning is actually pretty minimal. Not only that, but you'll be earning it through gift cards, not cash — so you can't use it for rent or utility bills, for example.
Having said that, if you are someone who plays a lot of mobile games, why not earn a gift card or two doing something you would do for free? Download the app to your device and give it a try. Not many people would turn down an Amazon gift card.
And if you're someone who regularly uses gift cards or buys games online, free gift cards can help set off the costs.
The other benefit is that you won't need to provide any payment information or connect a card, which makes it easy and fun for under 18 year olds. (Remember, you do need to be at least 13 years old to redeem your points).
Alternatives To Earn Money Online
Sure Mistplay is a way to make money online, but honestly, you would make more money with legit side hustles in your niche. In today's digital era you can find money-making opportunities for just about anything. Check out this list of alternatives make some extra cash or increase your income:
Tutoring
Sell your photos
Freelance writing
Proofreader
Blogger, YouTuber
Graphic designer
Etsy store
Affiliate marketing
Influencer
If you're interested in moving beyond the virtual world, check out these options to start your very own side business:
Pet sitting
Dog-walking
Mystery shopper
Personal assistant or shopper
Babysitting
There are also options to get money back in the form of cash-back apps like Rakuten, Swagbucks, or Ibotta. Here you're not necessarily making extra money, just getting it back in the form of cash when you order through their apps. Get paid to take surveys or participate in focus groups.
You can make extra income and good money doing lots of things. Get extra cash doing something you enjoy.
Recap
If you need extra cash there's no shortage of opportunities in the virtual world. Mistplay isn't one of the best ways to earn money and quit your day-job with its $50 max payout. But it's a legit and fun way to make a quick buck in the form of gift cards. Don't forget Mistplay offers a referral program for more free money. It might not be a get-rich quick avenue, but you can get paid for having fun. Start earning today.