Real estate crowdfunding for non-accredited investors is a hot topic and continues to grow in popularity. Below is my massive guide on what you need to know to get started.
Many people know that there is value in investing in real estate, but a lot can go into buying or investing in properties. This scares off many people, including the amount of capital that may be needed upfront.
This is where real estate crowdfunding comes in.
I'll cover everything about real estate crowdfunding, the advantages and disadvantages, being an accredited investor vs non-accredited, and the real estate crowdfunding platforms for non-accredited investors.
This is a HUGE post, so let's dive in. Also, feel free to use the table of contents to skip to your desired interest.
What is Real Estate Crowdfunding?
Although you might be familiar with real estate crowdfunding or may know what it means, I think it is important we define what it exactly is.
Firstly, crowdfunding is where you get a lot of people to invest a sum of money into a specific project.
Now if you combine that with real estate, this means a business or developer that is looking to raise funds for a project.
The project might be for a commercial building, houses, apartment complexes, etc.
These online marketplaces for real estate crowdfunding allow investors to pool their money together to invest in properties that most could not afford on their own.
Previously, before some new laws passed a few years ago, real estate investing was strictly through real estate investment trusts (REITs), buying rental properties yourself, or through private equity funds.
But with crowdfunding, investors can quickly diversify their portfolios into various forms of real estate in various property assets and in different locations.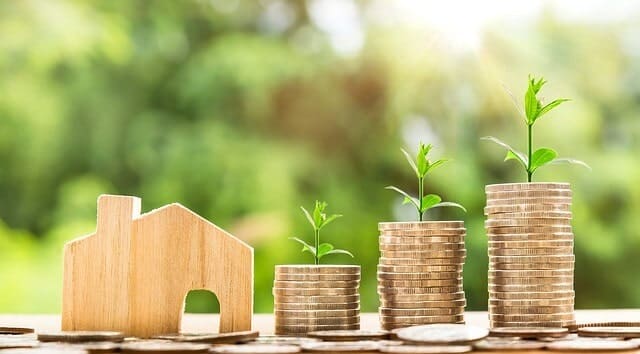 Advantages and Disadvantages of Real Estate Crowdfunding
With anything investing related, there are also advantages and disadvantages of real estate crowdfunding. Getting involved really depends on your current financial situation and investing goals.
But whether you decide to jump in or not, you should understand some of the main pros and cons.
Advantages
Let's start with the advantages of real estate crowdfunding and how it can benefit you. These are some of the major ones that come to mind.
Real estate investments have the potential to generate monthly passive income with very little work. Of course, it may be small amounts when you first get started, but there is a lot of potential here.
These investments may not fluctuate in results based on the price movements of stocks and bonds. REITs and other real estate stocks follow the trends of the markets. However, investing in actual real estate properties does not necessarily always follow the stock market. There are times where it can, but the two do not always correlate.
Lower investment minimums. Many times you can invest as low as a few hundred dollars to test the waters. It depends what platform you choose, but it's a great way to start dabbling in real estate, with low cash.
More control of your investment choices. You can pick and choose what to invest in based on either your goals, research, an interest of regions, types of properties, etc. You want to hit up the west coast, apartment complexes, and commercial buildings only? You can.
Investment returns can be bigger than stocks. This, of course, depends on a few factors, but it's not been uncommon to see 11-25% returns or higher. Most real estate crowdfunding platforms will be more conservative to their claims. Somewhere in the 9-15% range, but not bad for you having to do much work.
Tax breaks. Always consult with your accountant but with real estate crowdfunding you can have certain breaks, including depreciation write-offs.
Disadvantages
While there is plenty of advantages, nothing in investing is perfect either. Below are a few disadvantages of real estate crowdfunding that come to mind.
Limitations on deal control: While there are control advantages, there are also some disadvantages too. For real estate crowdfunding, you have to place a lot of trust in the platform you choose. As they control what gets approved for investors to pick from and you're trusting that the deals are not scams. Do a lot of research on the platform you may choose before investing with them, learn how they operate, and the news about the company.
Not as liquid as stocks: When investing in stocks, you typically can sell your shares quickly if strapped for cash or afraid of a bear market. However, with real estate crowdfunding, your funds can be locked in for a set period of time. There are ways to get your money back from most platforms, but you'll have to pay a fee. So if you think you'll need that money in the next 3-5 years, you probably don't want to look at real estate crowdfunding.
Note: I'm setting aside about 5% in 2019 for real estate crowdfunding that is separate from my savings and retirement accounts.
Crowdfund Platform Risk: RealtyShares, one of most popular accredited real estate platforms, recently announced a cease on new investments and loans. Pretty scary for investors. But your investments should be protected because you are invested in deals, not the actual platform. From what I've read, they've maintained operations to ensure those still invested are not out all their money. So just note, there may be challenges and more risk with your money in a platform. Just make sure you research what happens to your funds if a platform were to run into trouble or have to unexpectedly shutdown.
Taxes: While there are some advantages, you should know that there will be more tax filings for you if you go into real estate crowdfunding. It might not initially always cause you to owe more to the IRS, but it also can increase what you pay your accountant to manage. I'm no tax expert at all, especially with real estate crowdfunding, so you can read more here about it.
Accredited Vs. Non-Accredited Investor
For new investors, one thing that is noteworthy to understand is being labeled an accredited or non-accredited investor.
Many of the online real estate platforms were traditionally for accredited investors only, but more opportunities for non-accredited investors have been popping up.
Accredited Investor
An accredited investor means you have a special status under financial regulation laws. To be accredited, you must:
Have made $200,000 in annual income ($300,000 for joint investors) for the last two years with the expectation that you'll earn the same or more this year
Have a net worth over $1,000,000, individually or jointly, excluding primary residence.
This exists solely because the SEC wants to make sure that if you are investing in unregistered securities, you can afford to lose it.
Basically, it's a protection to ensure you don't go bankrupt or end up in massive debt.
While there is no proof needed from the government, many investing platforms will want some proof of income and assets to let you create an account.
So, it's sort of weird that way as I'm sure others have found loopholes around this.
Non-Accredited Investor
So if you are like me, you most likely fit under the non-accredited investor category. Of course, we all would probably love to be in the above category, but only time will tell.
Anyway, being a non-accredited investor is essentially the opposite of what you read above. This is anyone who holds less than $1 million in total assets and earns under $200,000.
Many real estate crowdfunding platforms in their infancy were for accredited investors only. But that left the majority of us with not as many options, especially those interested in investing.
Luckily, the government has allowed more options for non-accredited investors and real estate crowdfunding platforms opened their doors to more than the elite earners.
Real Estate Crowdfunding Platforms for Non-Accredited Investors
We covered a lot above, but it was all necessary information to get you on track. As a non-accredited investor, you still have some decent options when it comes to real estate crowdfunding.
I personally have not invested in any of the below yet, however I do have accounts created for two of them (I'll let you know in the description).
One of those accounts (not sure which yet), I do plan on testing in 2019 so I'm sure I'll write more in the near future.
That said, I also have some friends invested in a few of these platforms who have been seeing decent results, on average just over 10% returns.
Fundrise
Probably the most recognized name on this list for non-accredited investors is Fundrise. This was one platform I have an account created on, but have not invested with yet.
They are one of the longest standing platforms and originators in this space.
You can invest your money, according to your goals, in a portfolio filled with dozens of real estate projects. Each is handpicked and proactively developed with the goal of growing your net worth.
You can start with as low as $500 and there is a 0.85% annual asset management fee. There are some minor additional fees, but you can read up more on their website.
The options you have to choose from are supplemental income, balanced investing, and long-term growth of funds, which then has managed property choices to match your portfolio pick.
They used to have individual deal crowdfunding, which is no longer an option. I'd like to see that return to have more control on what properties to invest in.
However, you can easily get started by signing-up right here.
Groundfloor
Groundfloor started gaining more attention in the recent last two years or so and not too long ago, had opened to investors of all states.
You also can get started for as low as $10 and the loans themselves are short, just 6-12 months. They also claim on their website that they only approve about 5% of all the loans they screen.
Instead of specific portfolio plans like Fundrise, Groundfloor releases various graded residential, single Family properties that you can pick and choose from.
Get started with Groundfloor through my link and earn $10 towards your first Groundfloor investment when you fund your account.
Crowdstreet
I've seen Crowdstreet around, but I'm not as familiar with the company as some of the others. Their deals primarily focus on commercial real estate properties.
They mostly are for accredited investors, but they do have an option for non-accredited investors as well. However, the minimum investment is much higher compared to Fundrise or Groundfloor at $10,000.
RealtyMogul
Another real estate crowdfunding platform that has grown in popularity is RealtyMogul. Non-accredited investors are welcome and can invest in a mix of loans, equity, and other private placement deals.
They do not appear to have investments into single-family homes, but do have multi-family, office, industrial, self-storage, retail, etc.
The minimum investment is $1,000, which can still be steep if you are just testing, but still a great option.
Cardone Capital
You might be familiar with Grant Cardone, who has amassed a pretty big online following in recent years.
He's a big real estate investor and has an SEC approved fund for investors. Previously, it was only for accredited investors, but now he has gotten approval for non-accredited investors to get in on his deals.
However, the minimum investment here is a bit higher at $5,000. I have been watching Grant's videos for the last year and his real estate portfolio is massive. ($800 million in holdings before starting his crowdfunding efforts).
This might be something worth checking out if you have the means to do so and your comfortable financially. Otherwise, stick to some of the above first with lower minimums.
DiversyFund
DiversyFund is the only no-fee online platform that allows you to invest in their commercial real estate fund with a minimum investment at $500.
The company chooses and focuses on long-term capital appreciation from the renovation and repositioning of the multifamily properties under their ownership.
Out of the real estate crowdfunding platforms DiversyFund is a newer one in the space, but their team has years of experience.
You can learn more about their fund and get started in a few minutes right here.
Final Thoughts
Real estate crowdfunding for non-accredited and accredited investors is growing in popularity. Yet, many of these platforms are only a few years old and I'm sure regulations may also change.
But, if you are looking to get into real estate, to diversify your portfolio, and you have some money that you can afford to risk, real estate crowdfunding might be for you.
And with any of the above crowdfunding platforms, always do your research and due diligence.
Read reviews, read news articles about them, how they work, what anyone you know says about them, etc.
With any investment, there is always some risk so start off small and see what works for you.
Have you dabbled in real estate crowdfunding yet? Are you thinking about it? How do you see this playing into your investment portfolio? Let me know in the comments below.