Managing your company 401k and retirement accounts is not always easy (or fun) to do.
How do you know if you are invested in the right funds? Maybe you are missing hidden fees? Or maybe, you aren't contributing enough for your future based on your financial goals.
While some may self-manage their 401ks, not everyone has the time, interest, or know how to figure it all out. That's where Blooom becomes a vital investing tool.
Below is a review of Blooom, how it works, and some other options the company offers to improve your 401k investments.
---
You can sign-up for their free analyzer to start understanding your retirement accounts, catching hidden fees, and more.
---
What does Blooom Do?
While I somewhat alluded to it in the intro, you might be wondering what Blooom actually does.
Blooom is an robo-advisor that analyzes your existing 401k and then optimizes it for you. It will automatically manage your retirement accounts for you based on your specific goals.
And, you can also consult with their team, so there is still a human element to the product, which is nice.
Besides supporting your company 401k, Blooom also can analyze and monitor the health of your 403b, 401a, 457 or TSP accounts.
Note: Previously, IRA's were not managed with their platform. However, these have recently been added as options!
Their mission is simple and their statement on their about page I think sums it up nicely:
"The problem with 401ks is that they are confusing. Your company is great for offering these plans, but that's about it. The unbiased experts at Blooom can help you get your 401k on the right track… and keep it that way."
Blooom's Philosophy
I also think it is important to understand more of Blooom's philosophy as well. When it comes to investing money, there is plenty of sketchiness going on in the industry.
There are financial institutions and 401k plans looking to destroy your growth in fees, advisors looking for fat commissions, and funds that might not be the quality you need.
This is not to scare you off, but there are plenty of sharks in the investing world with your best interests not being first.
Their philosophy statement resonates well with me and should with all investors with 401ks:
" Our philosophy is simple: we're here for you—not your company, broker or institution. We think everyone deserves access to professional independent financial advice."
Who Is Blooom Best For?
If you are big into self-managing and maintaining your 401k plan, then Blooom might not be that interesting to you.
But even then, you might want to sign up for the free analyzer just to ensure you are on the right financial path.
So, who is Blooom best for? First, if you have a 401k, 403b, 401a, 457 or TSP accounts, then Blooom is already a great option for you.
But see if you fit into any of the below as well:
Your 401k looks like a foreign language to you: not everyone loves personal finance or investing, so if it looks like another language, you may need some help to stay on the right track.
You just don't have time to manage your 401k: investing is time consuming and busy lives make it hard to sit down and monitor/manage your investments. You will still have a say with Blooom, but it helps simplify it all.
You care about your financial health and stability: you'd probably agree that most people do care about their financial health and future. You probably are one of those people too. So if you genuinely care and are making an effort for your retirement goals, Blooom can be an essential tool for you.
Important: There is one other reason you might not want to use Blooom yet. If you choose their paid plan at $120 for the year, it might not make sense if you have small account currently. The fee works in your favor once your account grows and is very comparable to other robo-advisors.
How Blooom Works
What is great about Blooom is that they do their best to make their process and platform super easy. Blooom's algorithm uses your age and targeted retirement date to create the ideal asset allocation with minimal fees.
Blooom can work with most employer-sponsored retirement account as long as you have online access.
And don't worry, you are not transferring your account to Blooom and your company doesn't even have to know you signed-up for it.
So here's how it works:
Blooom will ask you a few questions about you and your financial goals
Blooom will give you a quick look at your current vs. ideal allocation, diversification and fees. All for free!
Blooom will remove funds that do not align with your goals.
Then, Blooom choose the right funds for you right from their algorithm.
A Blooom advisor will double-check your recommended 401k allocation.
Lastly, for clients on the Standard or Unlimited membership plan, Blooom will automatically manage your account for you, watch for changes, and rebalance. You will be notified when these things happen.
Remember, some of the more advanced steps from above are part of their paid plan. I'll get into that a bit in the next section.
Blooom's Product Features
The product is simple and broken down into two options. Pending on your interests and retirement accounts, you may choose one over the other.
Free Analysis
The first option you have is their Free Analysis, which I recommend anyone with an employee-sponsored retirement plan consider doing.
You won't be charged for this option at anytime, unless you choose to upgrade to their next tier.
Here's what the free 401k analysis includes:
Discovers hidden fees you might be paying on your investments
Breaks down your diversification in simple terms
Provides you with tailored recommendations to potentially improve your portfolio
Paid Plan (As low As $120/year)
The more advanced option from Blooom is their various paid plans, where you could have more management and access to their built-in robo-advisor.
If you lack the time and interest, want expert advice, and full optimization of your portfolio, this can be a great choice.
Here's what is included in their top-tier paid plan:
Everything from the free analysis
Discovers and potentially reduces investment fees that can harm your returns
Regularly adjusts and rebalances your investments
Access to advisors via email, phone or chat for expert advice
Alerts for any withdrawls or suspicious activity within your account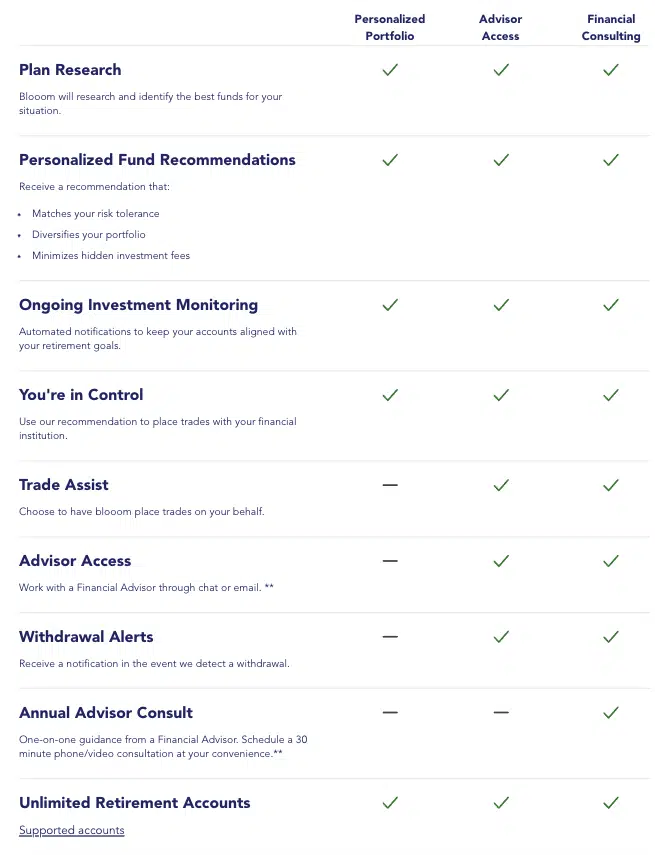 Blooom Pros and Cons
As with any money tool or investing product, you'll find both pros and cons. Here are a few I think are worth noting quickly with Blooom.
Pros
Free portfolio analyzer (401ks, IRAs)
Discover where you can potentially save money on investment fees
Change your asset allocation at any time
Cancel the service at any time for no fee
Works with many various plan providers
Fees come directly from your credit or debit card, not from your investments
You can ask real human advisors questions (Advisor Access and Financial Consulting tier members)
Cons
Does not work with with taxable investment accounts
Fees high for paid plan if your current low account balance
Aggressive stock allocations for younger investors
I highly recommend signing-up for a free analysis. You'll get some great insights and recommendations without costing you a dime.
However, if you want to go a step further you can move up to the paid plan which comes out to about $10 a month (billed $120 annually), that's it. If you feel like you need more help and advice, this option might make sense for you.
Sign Up for Your Free Analysis | Sign up for 401k Management
Is Blooom Legit?
This is what it all comes down to, is Blooom legit? Yes! The founders have created something special with their 401k robo-advisor.
First, they offer 256-bit encryption, bank-level security and third party verification are just a few ways they protect your information.
This is something I take very seriously, especially when it comes to products handling money.
Between their great product features and reasonable paid plan, the company makes it simple for you to succeed.
While companies need to make money from their product or services, it's also great to see Blooom solving a real problem with investing.