While index funds or ETFs are a simple and effective investment strategy, you might want to explore your investing further.
Another option you have is to start investing in individual stocks, which can be a great way to mix-up your portfolio and even achieve greater returns. 
However, there are more risks by investing in individual stocks, and finding the right companies to buy shares in can be tricky. Fortunately, there are stock picking services that can help guide to better-investing decisions.
By subscribing to a stock picking service, you'll get more detailed analysis and easier to understand overviews to help you discover good investments. But which stock picking websites are legit, have fair pricing, and have solid reputations?
What Is A Stock Picking Service?
Stock picking services are recommendations from financial companies and experienced investors that help you make more informed decisions about which stocks to invest in. As an investor, it helps you be more confident in your selections and can help you grow your returns.
Typically, you'll pay for these recommendations but most stock picking services today are affordable and relatively cheap compared to the returns you can make on your investments.
By subscribing to a service, you'll get newsletters or access to a platform with in-depth analysis shared by experts in the financial industry. And a stock picking service can be a great addition to any stock screeners you use to analyze companies already.
Remember: No one can accurately predict what exactly the stock market or an individual stock will do. However, many of the services on this list do an amazing job providing tons of useful data, information, and explanations as to why a company might be a good investment. I also never risk more than 5% of my cash towards individual stocks.
What Makes A Good Stock Picking Service?
As you probably know, any time there is money involved there are usually scams to watch out for as well. And there are absolutely scammy stock market services out there.
Many newsletters can be labeled as "pump and dump" schemes, where these mailers are used to inflate the stock price based on misleading information to make others rich. Quickly the stock prices fall and most investors end up losing money.
So if you are new to day trading or investing in stocks, you don't want to jump into any newsletters or paid services without knowing what makes a good service first.
Here are a few signs of a good stock picking service.
Are they trustworthy?
Even if the site and information look credible on their website, always do your research on the company. Look for reviews, see what people are saying, look into how long the company has been around, ask other investors, etc.
Do they have a good track record?
With finances, you always want transparency and past performance results. If someone or a company is hesitant or making excuses to show you results, they probably are not a reputable stock picking service.
Legit companies in this space will give you access to recent stock picks, past performance, and even a history of recommendations that worked or failed. And any stock advisor or analyst needs to be honest about their methods and signals they look for in good companies.
Educational material
I love services that offer additional educational material or insights and aren't always trying to upsell you. And I think this should also apply to any stock-picking newsletter or service you consider.
Does the company or service give you access to tools? Educational material? Tips and tricks? Anything that helps you become a better investor is an important factor in which service you choose.
Affordable cost
In today's world, investors expect low costs associated with their investments. It's pretty much a must today, especially as most brokerage companies offer $0 commissions on stock trades and other fees continue to get lower.
Look for stock picking services that fit your needs and overall budget, but ones that also are not overly priced. Fortunately, there are plenty of options and competing prices to keep your costs low and stock returns higher.
Best Stock Picking Services
Regardless if you are a standard investor or day trader, there are legit stock picking services that will meet your needs. These can help you determine which stocks to invest in and even help you determine when it might be a good time to sell stocks that you own.
Here are the best currently available to help you win in the market.
1. The Motley Fool Stock Advisor
Best for buy and hold investors.
If you are a buy-and-hold investor, then The Motley Fool Stock Advisor program might be a perfect choice for you.
The Motley Fool was founded in the early 90s and has continued to be a leader in the investing category. Currently, the company is led by the founders (and brothers), David Gardner and Tom Gardner. They have written numerous books, host podcasts, and are big investors themselves.
One of their most popular services at The Motley Fool is the Stock Advisor program, which helps investors pick stocks that are worth buying and holding for at least 5 years.
The program costs $199 per year but discounted to $99 for the first year. They also have a 1-month option for $39 to try the service out. And they offer a 30-day money-back guarantee.
What I like about the program is they are transparent, provide detailed analysis, and there is no "get rich quick" mentality here. Sometimes their marketing is a bit over-the-top, but there is a reason they have been around for so long.
On the Stock Advisor webpage:
"Stock Advisor's recommendations have beaten the market over the past 18 years by staying true to our investing philosophy. We believe your best chance to succeed in the stock market is to buy at least 15 stocks and hold them for at least 5 years. It's important to understand that stocks can and do go down, but investing is still the best way we know to build long-term wealth."
Learn More About The Motley Fool Stock Advisor
2. Morningstar
Best for buy and hold investors, growth investors.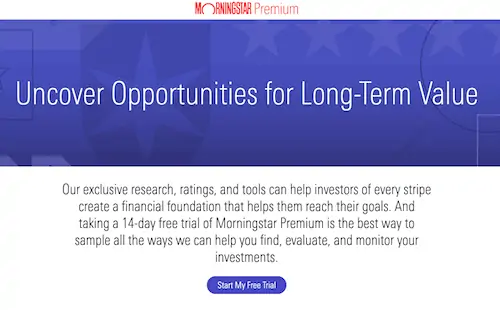 If you have ever done a search on specific stocks or funds, you've probably seen Morningstar at the top of your searches or have been on their website.
The financial services company offers a bevy of products and services that include investment tracking, managed portfolios, retirement manager services, and more.
However, since we are focused on stock picking services, I'm going to focus on two of their core products:
Morningstar Premium
Morningstar Investor Newsletters
Morningstar Premium
The premium service from Morningstar gives investors access to their exclusive research, ratings, and investment tools. You'll get insights into their top picks related to mutual funds, stocks, and ETFs. These all come with in-depth analysis and data to back up their picks and decisions on ratings.
Morningstar Premium costs $199 for the year, but they a 14-day free trial to sample everything the product and services offer. You can also register for free and use a more basic version, but you will not get as many features as you would with Premium.
Learn More About Morningstar Premium
Morningstar Investor Newsletters
Another way to get top stock picks and investment ideas are to join the Morningstar Investor Newsletters. Currently, the newsletters are split into four categories to meet the interests and needs of investors. These include:
StockInvestor (annual cost: $145 Digital, $165 Print + digital)
FundInvestor (annual cost: $145 Digital, $165 Print + digital)
DividendInvestor (annual cost: $199 Digital, $219 Print + digital)
ETFInvestor (annual cost: $199 Digital, $219 Print + digital)
Each newsletter includes analysis, watchlists, email alerts, bonus reports, exclusive web pages, and more. Pending what interests you more and your investing needs, the newsletters could be a great option. Although it can get pricey if you plan on subscribing to more than one.
Learn More About Morningstar Investor Newsletters
3. Seeking Alpha
Best for buy and hold investors, day traders, research.
Another recognizable name you may have seen before is Seeking Alpha, which was found in the early 2000s. The platform is a crowd-sourced content service that covers research on stocks, funds, ETFs, and various investment strategies.
But what you might not know is Seeking Alpha also offers several premium subscription options that help you as the investor get advice, trade ideas, stock research, portfolio management tools, and more with pricing from free to $199 per month.
The paid services are a bit more expensive than some others on this list, but the quality of information and tools might be worth it to you.
Basic Free: Stock analysis email alerts, Real-time news updates, Investing newsletters, unlimited access to stock prices & charts, etc.
Premium $19.99/Month: All basic features plus unlimited access to premium content, Seeking Alpha author Ratings, Seeking Alpha author performance, stock ratings, stock dividend grades, Ad-lite.
Pro $199.99/Month: All premium features plus top ideas, PRO content & newsletters, short ideas portal, idea screener/filter, VIP service, no ads.
Learn More About Seeking Alpha
4. The Motley Fool Rule Breakers
Best for buy and hold investors, growth investors.
While the Stock Advisor might be the more popular option from The Motley Fool, they have another stock picking service called Rule Breakers.
The difference here is this newsletter is focused on growth stock picks by David Gardner himself. These are usually companies that most people might not have on their radars yet, but have massive potential for growth in the coming years.
This does introduce a bit more risk as there is no full-proof way to know how an up-and-coming company will do. But the average Rule Breakers recommendations have returned over 373% since inception.
This service allows includes selling alerts, recommendations every second and fourth Thursday of the month, and a round-up email of all the recommendations.
Similar to the Stock Advisor program, there is a 30-day money-back guarantee. However, this service costs $299 per year, but you can get it for $99 for the first year or $39 for one month.
On the Rule Breakers webpage:
"Rule Breakers has beaten the market over the past 15 years by staying true to our investing philosophy. We believe your best chance to succeed in the stock market is to buy at least 15 stocks and hold them for at least 5 years. It's important to understand that stocks can and do go down, but investing is still the best way we know to build long-term wealth."
Learn More About The Motley Fool Rule Breakers
5. Trade Ideas
Best for day traders.
While I'm not an active day trader, many of the stock picking services are great platforms for those who consider themselves active daily traders. One service that might be good if you fit into this category is Trade Ideas.
This platform utilizes artificial intelligence (A.I.) for its stock screener and scanner.
It generates real-time trade ideas and recommendations for its subscribers based on the data it runs the night before the trading day starts. And that includes entry and exit points of your trades, giving you more data to make better investing decisions.
There are tons of features with the software, which is available for installation on Windows PCs or within the cloud from any device. Pricing is also a bit more expensive but in a similar range compared to other platforms. The cost is $118 for standard and $228 for premium.
6. Zacks
Best for buy and hold investors, day traders, research.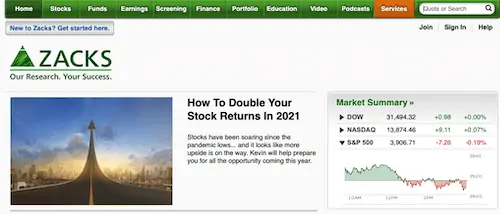 Zacks investment research has been around since the late 1970s and is still a trusted source today for buy and hold investors, day traders, and those looking to dive deep into research.
While there is plenty of free things you can do on their platform, they also have a stock picking service and recommendations for those looking for that "edge." Investors who prefer deeper fundamental analysis in their stock strategies and want access to various tools will benefit from Zacks.
There are three different membership tiers, with each offering different features. The prices range from free, $249 per year for premium, and $299 per month for ultimate.
Free Membership: daily newsletter, free articles, and content, quotes, charts, news, basic research, email alerts, portfolio tracker, Zacks ranking for stocks and funds, Zacks style scores.
Zacks Premium (30-Day Free Trial): everything from free membership as well as Zacks industry rank, Zacks equity research reports, Zacks premium screens, services team, and Zacks premium that includes commentary, tools, and recommendations.
Zacks Ultimate (30-Day Free Trial): everything from basic and premium, plus features like Zacks top 10 stocks, stocks under $10, Zacks short sell list, and tons more.
Learn More About Zacks Membership
7. Pilot Trading
Best for day trading, cryptocurrencies, forex, futures.
Some of the above options are a bit old school and focus more on traditional stock trading. But as fintech continues to develop, you may be looking for something more modern and one that offers more investment options.
This is where Pilot Trading might be a stock picking service to consider.
Pilot monitors the activity of all traders in real-time and alerts you when the market is about change direction. And when there is an opportunity detected, Pilot will alert you with a buy or sell notification immediately.
You download the app, create your watchlists, and discover opportunities and recommendations. Plus you can connect to their supported brokerage accounts for direct in-app trading.
And besides stocks, Pilot includes forex, futures, and cryptocurrency trades and swings. If you are just getting started in more active trading, Pilot also has simulated trading to practice and learn.
It will cost you $19.95 for access but could be worth it if your brokerage is supported and you have interest in stocks, forex, crypto, or futures.
Learn More About Pilot Trading
Final Thoughts
Whether you are a buy-and-hold investor or interested in day or swing trading, being successful takes patience and dedication.
And finding the best stocks and funds that will provide solid returns takes research and knowing when to invest. This is why stock picking services have become popular and give traders an edge.
Even with these great services above, there is still no guarantee you'll find success. But getting real-time alerts, deep analysis, and data will certainly give you a far great chance at building wealth.