While a college degree can be important to generating great income and may be required for certain work fields, you can develop high-income skills without a degree as well.
Thanks to the Internet, you can learn pretty much anything that can translate to boosting your salary or starting a successful side hustle.
However, it will still require time and experience to really jump your income, but you can learn quite a bit from the comforts of your home.
So what skills are in demand and will help elevate your income and career worth?
Below you'll find some of the best high-paying skills that can help you earn more from your full-time job, start a business, or create a lucrative side hustle.
What Are High-Income Skills?
High-income skills are the experiences and knowledge you gain and develop where employers and clients will pay larger sums of money for your work. These sets of skills are how you increase your salary, boost your career net worth, and ramp up your side hustle income that generates 6-figures, 7-figures, or more per year.
According to the United States Census Bureau, the median household income is roughly $68,703. While this number is pretty healthy, that amount of household income will only go so far pending where in the country you live.
For example, that income would not get you very far in most cities of California and you may struggle financially.
So becoming a high-income earner is a lucrative and financial game-changer for you and your family. So what skills are in demand that can give your income a serious boost?
Examples of High-Income Skills
There is no shortage of high-income skills you can teach yourself and develop over time through experience. Eventually, you can boost your income or even salary by improving your career worth. And these do not require a college degree to get started with.
Many of these examples below you can learn in college or get certifications in and can boost your timelines to making more money. But often it comes down to experiences and taking your own time to learn to provide value.
For example, I did not go to college for digital marketing or took one marketing course in school. But through experience and my interest in working in this field, I was able to obtain a great paying gig and use those skills to build side hustles.
Remember, many of the below skills you may not start-off making six-figures, but there is a high-demand for the work and with a bit of experience, you can make good money whether full-time or as a side hustle.
Tip
: Looking to find great freelance and part-time work in any of these high-income skills below?
Sign-up for FlexJobs
, which gives you exclusive job opportunities and options to apply to top gigs.
1. Coding
There are hundreds of different coding "languages" available to learn, with some of the most popular being HTML, Python and Javascript. Full-time software developers (who spend their time coding) can expect to get paid an average of $107,000 per year while freelancers could get even more lucrative salaries.
There are a number of online resources where you can learn to code for free or even pay for an online certificate, which can be a great alternative to college.
2. Web Development
Website development may also utilize those coding skills in order to build the back-end of websites. You might focus on building out the website structure (like on WordPress), or other technical elements.
A full-time website developer might make around $61,000 in an entry-level role but can quickly surpass six figures. Again, you'll find plenty of online courses and resources to hone your web development skills. 
3. Web Design
Working on the front-end of websites, web designers focus on the UX (user experience) elements of the site. It's not all pretty color coordination, designers will also work on branding and navigation to ensure the site map is logical for customers.
They might also optimize each page so that customers stay online longer, for example. Junior-level web designers can expect to make approximately $42,000 per year or it can also be a great side hustle.
4. Graphic Design
Although most colleges offer classes in graphic design, you can also excel in the role from a self-taught or non-traditional background. Graphic designers will ensure your brand fits in all aspects and appeals to your customers.
They also might make graphics for your marketing materials. Graphic designers can make around $45,000 when working full time, or much more when freelancing. 
5. Social Media Marketing
Whether you're a boss at creating catchy captions or you never miss a deadline, social media marketing is a high-income skill that is coming to the forefront.
Now that social media is one of the biggest factors for customers choosing to buy, dedicated teams will work on creating materials and building engagement on their platforms. Social media managers can earn $50,000 on average. 
Social media is a tougher market as pretty much everyone these days has develop some social media skills. But if you want to make good money from this, you'll need to learn how to build engaged audiences and be creative.
6. Copywriting
If you're good at telling stories, this might just be the job for you. Copywriters are hired to write persuasively, relate to their audience, and sell products. Your work may be used on the website, inside emails, or across social media.
Copywriters can expect to earn around $47,000 per year when working full time to start, but can quickly ramp up from there.  Strong writing skills will always be in demand and there is plenty of work, whether in a freelance or full-time position.
7. SEO
Otherwise known as Search Engine Optimization, SEO is a highly-regarded skill that companies pay top-dollar for. You'll work on technical aspects, on-page content, and link-building in order to have the site rank higher on search engines like Google. An SEO consultant can earn around $72,000 per year. 
8. Email Marketing
Do you have a way with words? If the sound of the copywriting skills above felt like they were perfect for you, then email marketing might just be too! You'll be focused on testing different subject lines and hitting those open rates in order to directly market to the customer. Specialist email marketers earn an average of $50,000 per year.
9. Video Editor
If you're willing to learn how to do creative transitions and color correction, you can earn a high income as a video editor. Putting together professionally produced videos is hard, and will require insider knowledge of multiple editing platforms and software suites, too.
But a video editor makes around $38,000 per year at entry-level, which is a bit on the lower end. However, it can be a great place to start your side hustle business if you love video and editing video.
10. Podcast Editor
Similar to the above, podcasts are on the rise and could one day be as big as Youtube. But refining the audio, cutting at the right points, and merging parts of a podcast require a highly skilled individual.
Although a newer role, podcast editors can expect to make an average of $61,000 per year, and if you are inclined, you can start your own and potentially make big advertising revenue from your own.  
11. Transcription
Are you a fast-typist? Transcriptionists type out audio into a legible document, sometimes in a monologue format, and sometimes as a conversation. You'll have to know your grammar, spelling and potential accents to do well in this type of role, as it might require some guesswork. Transcriptions typically earn in the region of $30 per hour while freelancing.
12. Trade Skills (plumbing, electrical, construction)
While not online, vocational classes in plumbing, electricity, and construction are available in person. These should give you all of the knowledge you'll need to set up a business in the area, and may come with accreditation or certification too. Tradespeople who are working for themselves can earn six figures a year and beyond.  
13. Coaching
Life coaching, business coaching, health & nutrition coaching. Coaches are in high demand right now, both virtually and in person. And the best part? Some of these roles don't even require accreditation, as the industries are not regulated.
It means that "anyone" can call themselves a coach. Having said that, the way to generate consistent income is through good service and retention of customers, so you'll need to be good at what you do and provide value. Do not trick people into paying for value that you cannot provide!
14. Course Creation
So many entrepreneurs create courses to generate passive income. But many of them don't know how to actually build out the courses, which hosting platform to use, and what value to add into every module. A specialist online course creator can be contracted by other businesses to create a product that can generate income for the rest of the lifetime.
15. App Creation
If the software development and coding roles above sparked your interest, then app creation may be another high-paying skill to add to your roster. App stores are no longer filled with online games and digital toys, nowadays every shopping website, airline and bank tends to have an app.
What's more, companies will pay top dollar to have a great user experience and retain their mobile customers, which means this is a very high-paying skill. 
16. Lead Generation
If you can learn sales techniques or build a system to generate leads, companies will invest in you to generate returns. This ROI (return on investment) is directly related to your performance in the job, so experience remaining cool under pressure will be needed. That said, you can earn commission on top of a base rate for this type of role.
17. Teaching or Tutoring
Now that teaching has moved online, some students might never look back. Particularly those who are native-English speakers, there are many opportunities to teach or tutor children and adults learning English as a foreign language.
For example, there are a number of Chinese online schools that have their teachers work before or after the typical school day. This tends to work with different time zones. A new online teacher can expect to make around $20+ per hour or more with one-to-one tutoring. 
18. Real Estate Brokerage
Real estate commissions can be lucrative, so you might be pleased to learn that those working within the industry don't require a degree.
Brokers are similar to estate agents but have completed additional licensing which means they can hire others and work independently. They typically make around $100,000 per year, which is made up of approximately 40% commission. 
19. Public Speaking or Presenting
While you may think that "soft skills" like public speaking are not valuable, they can actually be applied to presenting videos, giving talks, or consulting at companies.
These are practiced skills, rather than learned, which means your success is not determined by awards or accreditations. Many YouTubers make six-figure incomes, and keynote or motivational speakers earn approximately $100,000.
20. Stock Trading
If you know your way around the stock market (or are willing to learn), you may be able to become a successful day trader or work at Wall Street!
This is a high-pressure environment with a lot of risks, so if you don't have such a strong stomach then one of the other jobs on this list may be more suited. Salaries vary but expect to make at least six figures when you become really good at what you do.  
I personally prefer investing with a lazy portfolio to day trading, but occasionally I dabble with a minimal amount. Never risk all your money or income with day trading!
If you are looking to get started with investing or day trading with less money, consider Stash, Acorns, or M1 Finance.
21. Internet Security
With many digital businesses and migrations to cloud technology come new cybersecurity threats. Protecting a company from these threats is very necessary, especially for larger companies within the Fortune 500. The average salary within this field is approximately $76,000 per year but opportunity to make much more!
Best Places to Learn High-Income Skills
Pretty much all the above skills, you can certainly learn in college or obtain a degree in someway.
However, thanks to the Internet and the advances in how people get educated, you don't need a college degree to gain most of these skills.
There are tons of ways to master your interests and craft, which can translate into big bucks. Here are some ways to learn some high-income skills this year!
Books
One of the go-to places to get educated and develop skills is by reading books on the areas you are looking to work in. Pretty much anything you want to learn, you'll find numerous books about. It's how I taught myself how to invest and started learning the basics of coding.
Udemy or Skillshare
Online communities of experts teaching others specific skills have been a growing market for years. When the COVID-19 pandemic happened in 2020, more people were looking for things to do and find ways to make money. Two of the popular learning communities are Udemy and Skillshare, which offer thousands of courses and topics to choose from.
LinkedIn
Over the last few years, LinkedIn has turned into a place to learn and connect with other working professionals, instead of just a place to post your resume and connect with recruiters.
There are many LinkedIn influencers who share insights into work and things you can apply to any high-income skills you are looking to develop. Additionally, you can join LinkedIn Learning, which also offers thousands of videos to learn from.
Google
Looking to get more into tech like coding, digital marketing, or data and analytics? Google offers a plethora of free certifications and courses that can develop your skills. Naturally, certifications only get you so far but it sets the foundation you need to start making more money.
You can check out options on Grow with Google or learn Analytics, AdWords, Youtube, and more via Google Skillshop.
HubSpot
If digital marketing is something that really interests you, another great way to learn and build your skills is via the marketing platform juggernaut, HubSpot.
The company is known for its inbound marketing methodology, but they offer tons of certifications for free. These include inbound marketing, social media, content marketing, advertising, inbound sales, and more. Check out the HubSpot Academy to learn more.
Codecademy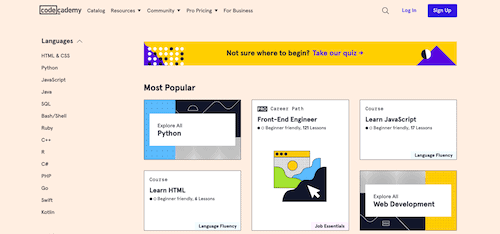 The demand for coding jobs has increased significantly over the years and tech companies pay top dollar for skilled coders.
While there are coding schools that get you prepped and certified in two years or less, they may not be as affordable to you. These schools tend to be cheaper than a four-year college and can be a great option, but you can learn for even cheaper.
However, sites like Codecademy have in-depth courses on various programming languages and have you type in code you've learned, which I always think the "learn by doing" way will stick better with you. You can sign-up for Codecademy for free or pay $20/month which gives you way more content, support, and certifications.
Online Experts
Many online experts will be involved in places like Udemy, Skillshare, or LinkedIn Learning but you can also find many with their own content online. I'm talking websites, podcasts, Youtube channels, etc.
Now you have to be careful and do your research a bit on the advice you follow. Don't blindly follow these "experts" advice without understanding their experience and background.
Many experts make a lot of money through affiliates, views, and course sales and may push a narrative to boost their income. This is not online experts are not legit but don't rely on them only for your growth and knowledge.
Final Thoughts
There you have it, some of the best high-income skills that can ramp up how much money you make and be a boost to your personal finances.
As you can see from the above list, there are plenty of options to consider and most will not require a college degree to get started with.
Remember, that learning and certifications are great, but just getting started and doing the work (even if it's your own project) will help you build your skills.