Over the last few years, real estate crowdfunding sites have exploded in popularity, giving everyday people a chance to invest in real estate.
Previously, your options were buying and managing properties, becoming an accredited investor with a high net worth to get into exclusive deals, or purchasing publicly traded REITs (real estate investment trust). 
And real estate is one of the best ways to invest, build wealth, and to diversify your investments outside of traditional stocks and bonds.
However, in the last few years the SEC allowed more crowdfunding options for investors who are not classified in the "accredited" category.
Below you'll find some information and overviews about the best real estate crowdfunding sites for non-accredited investors.
The Real Estate Crowdfunding Market
Although you can invest in these platforms as a non-accredited investor, the SEC does provide and recommend some guidelines on crowdfunding in general, to help ensure you do not take on too much risk.
This is not to scare you off from investing in real estate crowdfunding sites, but to help keep your money safe and ensure you know the risks.
Additionally, while real estate crowdfunding is separate from the stock market, it can still be influenced by the economy and the housing market.
However, most real estate sites tend to have good track records and are highly regulated, but be sure to read the FAQs on each site for the finer details about how they work if you are unsure.
If you want a further dive into the advantages, disadvantages, and more on real estate crowdfunding, then I recommend checking out my previous post on real estate crowdfunding here.
Extra Tips: With any real estate crowdfunding platform you'll want to do the following: Pay attention to platform fees, management fees, historical returns, changes in investments or structure, and what others are saying about their experiences.
Top 3 Real Estate Crowdfunding Sites To Consider Investing With
There is no shortage of real estate crowdfunding platforms available to both accredited and non-accredited investors. Many have been around for a few years, while others are popping up and are brand new to the space.
Out of all the ones that are currently in the market, I wanted to share three I consider to be the best crowdfunding sites for those non-accredited investors.
These are my opinions and the ones I've had experiences with, so you still might find other platforms you'll like. But, after your research, I'm confident that you'll find these three remain as some of your top choices.
The below are in no particular order or preference. Additionally, joining more than one is totally fine! This is another great way to become a real estate investor, diversify the type of real estate assets you own, and to try the platforms out.
Groundfloor
Groundfloor might not be the most recognized in this space yet, but they are well on their way. This is one of the best real estate crowdfunding platforms for non-accredited investors.
Why? Because they allow you to test and get started with as little as $10 in any investment property.
Sure, you aren't going to get rich investing $10, but it allows you to learn about real estate investing and you can take your time without risking much.
Here's why Groundfloor might be a great choice for you:
Returns: Groundfloor investments return over 10% annually on average. This of course can vary pending your choices, economy, and other factors.
Diversification: Loans are available at different grade levels (high risk to low risk), with returning ranges to investors between 5% to 25%. You're in control and get to choose the specific loans you want to invest in.
Short-Term: Groundfloor loans typically have just a 6-12 month term, so you're not locked in for years.
Open to everyone: Groundfloor is open to everyone, not just accredited investors.
Lowest Required Minimum: If you are new to real estate and don't want to invest hundreds of dollars, Groundfloor lets you get started with as low as $10.
Cons:
Only single-family home investment options so far.
Higher volatility and potential longer investment holding if a property ends up in default.
There are no monthly income payments – all funds are distributed when loans are fully repaid (So no monthly passive income option).
Fundrise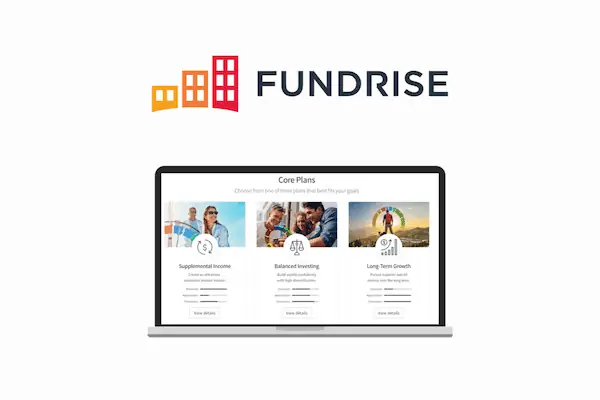 Fundrise might be the most well-known real estate crowdfunding site in the bunch. The company is also another top choice when you are considering investing in the real estate market.
With Fundrise and as a non-accredited investor, you get to invest in multi-million dollar deals with as little as $500.
Does that grab your attention a bit? It should!
Here's why Fundrise might be a great choice for you:
Simple Investment Portfolio Plans: Based on your financial goals and investment plans, you can choose from their Starter Plan, or their core plans of Supplemental Income, Balance Investing, and Long-Term Growth portfolio plans.
Diversification of Properties: The real estate properties that Fundrise allows you to invest in range from apartment buildings, commercial buildings, home construction, as well as various locations across the U.S. Being able to have diversification in multiple property types is solid.
Historical Performance: Their properties have returned 8-13% returns for their investors over the last few years, beating out publicly traded REITs like Vanguard's Real Estate ETF.
High Level Transparency: Their offerings are regulated by the Securities and Exchange Commission (SEC) and must follow strict reporting requirements like annual audits and regular financial reporting.
Low Required Minimum Investment: The Fundrise Starter Plan only requires a minimum investment of $500. While not as low as Groundfloor, it's a great value to get started in larger real estate investing deals.
Cons:
Fees are a bit high .15% advisor fee and .85% fund fee with this investment platform.
Longer hold time of 3-7+ years before returns are funded.
I think Fundrise is a great platform to test and to see how it fits into your investment strategy.
DiversyFund
This one maybe somewhat of the new kid on the block, but the team at DiversyFund are doing great things in real estate.
I recently came across them a few months back and enjoyed the interviews their CEO has given. Like this one!
DiversyFund is an online platform that allows you to invest in commercial real estate funds with as little as $500. They are also the only no-fee platform! Yes, you read that correctly and that's big for your investment returns.
Why can they have no fees? DiversyFund actually owns the properties (they have a dedicated real estate division), whereas most of their competitors use third parties.
This is the reason DiversyFund is able to eliminate all platform and management fees – as they get money from acquisition/developer fees and therefore don't need to collect fees from investors. Score!
Out of all the crowdfunding websites in this space, I'm not sure of any others offering that yet.
Here's why DiversyFund might be a great choice for you:
Great Payout Structure: Investors are protected by a 7% preferred return to investors before the Sponsor (i.e. DiversyFund) receives any profit split.
No Management Fees: As I mentioned there are no management fees because DiversyFund owns their real estate properties outright.
Historical Performance: Their historical average returns over the last few years has been 17%+, some of the highest real estate returns from any of the online platforms for non-accredited investors.
Cash Flow Positive Investments: Distributions from cash flow are reinvested monthly for investors until the asset is sold and the final return is distributed. Since all properties are cash flowing, we wait and let the assets further appreciate so we can sell them at a maximum profit.
Low Required Minimum Investment: The DiversyFund also only requires a minimum investment of $500.
Cons:
Real estate properties not as diversified in locations, but more is coming.
Currently only one investment option for non-accredited investors (Growth REIT).
Investment horizon before payouts average 5+ years.
Is Real Estate Crowdfunding A Good Investment?
Real estate crowdfunding sites are attractive to investors because they can reap the benefits of owning income-producing property but not have to manage it at all.
And for a much lower minimum investment, investors can diversify their portfolios beyond the traditional investments that follow stock market trends.
The other benefit is that many of these real estate platforms have consistently delivered 8% – 12%+ returns for their investors.
Now there are no guarantees, still risk involved, and your money is tied up for much longer — but can give you the diversification you seek.
Personally, I think these are good investments if you have done the research and know what you are getting into. Online real estate is very real and continues to grow in popularity.
Always minimize your risk, do your due diligence, and choose a platform that resonates with you. However, I think the above are great real estate sites to consider and should be a consideration for serious investment strategies.
Final Thoughts
For those nervous about any real estate investment or rental property, these real estate crowdfunding sites can be perfect options for you.
This really allows you to start diversifying and learning about real estate investing at the same time. Of course, real estate crowdfunding platforms aren't for everyone, but it might be the perfect investment option for you.
Each of the examples have some of the best platforms on the market, but also offer some unique advantages to both non-accredited and accredited investors.
Which platform is ultimately the right option for you?
Even after your financial goals, your current finances, and your investing horizon, picking more than one — or all — can be great choices.
However, if you are limited on funds currently, choose one and slowly expand as you put your money to work and start a path to building wealth.
Side note: If crowdfunded platforms doesn't seem to be your thing, you can also invest in actual real estate with no-money.
Are you investing in any real estate crowdfunding platforms currently? Which ones do you like or have you seen results from? Let me know in the comments below!